How to manage your VPS with SolusVM
  1. How to change the server status:



To change the server status, select the General tab: 
Reboot - reboots your VPS; may be needed if VPS has stopped responding 
Shutdown - turns off your VPS server 
Boot - turns on your VPS server 
Reinstall - reinstalls OS on your VPS 

NOTE: The reinstall option will erase all existing data on your VPS 


  2. How to change VPS hostname:


Select the Hostname tab
In the New Hostname field input the new server hostname of your choosing and click Change.

NOTE: The new hostname must be set in the following format - newname.yourdomain.tld 


  3. How to change the root password:



Select the Root Password tab
In the New Root Password field input the new root password and click Change.

NOTE: A reboot of your VPS is required for the root password change to take effect. 


  4. How to enable API access to the server


Select the API tab
Click on Generate in order to generate a new pair of API user/password.
  5. How to check VPS usage statistics
In the 
Controls
 section select the 
Statistics
 tab and a time period from the drop-down list to see Traffic and Disk Space usage log:


 6. How to access server via Serial Console

Serial Console is a SolusVM feature that enables an SSH connection via a separate IP address using session-specific random login details. It can be used when you can't connect to your VPS via regular means, for example, due to a firewall misconfiguration:

To access this feature, click on the Serial Console button
On the next page, select the time period access will be granted for and click Create Session: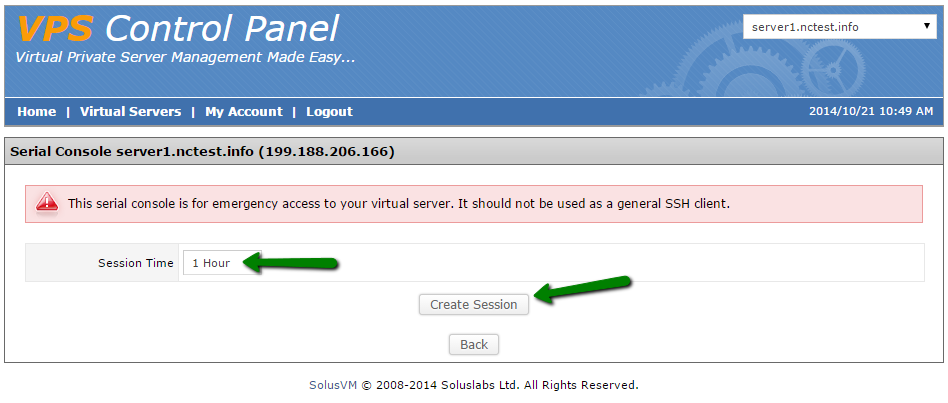 On the next page, you will be provided with SSH access details which can be used in any SSH client (or use 

Java console

 on the same page)