Confused? Get Domain name tips from experts at Webanchor.Net!
Domain name registration can be really confusing because there are more than thousands of different extensions from which you have to choose from. Our expert teams don't only provide you cheap domain registration in Pakistan but we can also help you get the best domain name registration before your competitors get hands on it.
When you have to buy a domain in Pakistan you have to consider the nature of your website. Make a domain search and buy domains that are easy to remember. The best domain cannot be determined by the domain price in Pakistan rather you have to prefer the names that are simple and short. The best domain name registration in pakistan is the one which links with your company goals and brand. Simple and attractive domain names have a great impact on your domain authority score as well as your ranking positions. Adding focused keywords in your selected domain name helps your site be more visible.
An important thing that you need to know when you buy domain and hosting in Pakistan is that your domain name should not include any special characters. This is because these kinds of domain names don't have any search scope. Our team at Webanchor would help you buy domain name that would suit your website niche as well as your budget. Our core mission is to provide a cheap domain in Pakistan along with 24x7 customer support.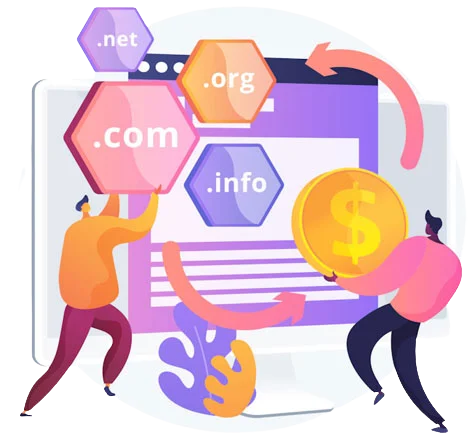 PARTNER WITH WEBANCHOR AND TARGET YOUR AUDIENCE WITH THE RIGHT DOMAIN NAME
Webanchor has made domain registration in Pakistan very easy. Users can make a domain search for free and check the available domain registration Pakistan. Webanchor is one of the cheapest domain registrars in the country but this banner is not the only highlight about us. Webanchor helps you make quick domain purchases in Pakistan; we also help you get ideal domain names for your website with the most suitable address. Our .com domain price in Pakistan is around $10 which is the lowest in the market. Here you should know that Webanchor is also home to the best Pk domain name registrations!
Partnering up with Webanchor is beneficial for you as we also provide cheapest SSL certificates and dedicated servers to our clients. Other than these bundle offers, Webanchor also provides you complete data about our enlisted administrations. Our users can also contact us through live chat, call and even email. Our team is always available to cater all your requirements related to cheap web hosting in Pakistan .
Domain name is the first thing that attracts the target audience which is why you need to choose the right partners who can help you through the selection process. Webanchor also helps you become a domain reseller in Pakistan at the lowest cost. We offer privacy protection of your domains and holder name for free. In addition to all these perks, Webanchor provides you auto-renewal services in case your domain gets expired! So choose Webanchor to get the best web hosting bundles and domain registration in Pakistan.